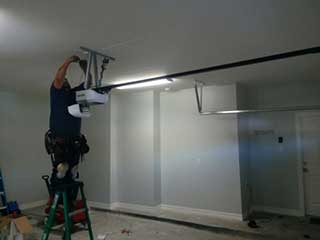 When it comes to garage door openers, you want to ensure that you are receiving only the best service, performed by technicians with lots of skill and experience. We are here to provide you with exactly that, and then some.
The Right Opener For You
Our technicians specialize in dealing with all three types of drive-systems that openers use: chain-drive, belt-drive, and screw-drive. Each one has its own set of benefits to suit a host of different needs. If you are looking for a quiet unit then a belt-drive system is the way to go. If you want one that will require less maintenance then a screw-drive opener is your best choice. If noisy output doesn't concern you, and you want an affordable and reliable device, then going with a chain-drive unit is something you should consider. Our team will be happy to provide you with more useful information.
Opener Repair and Maintenance
Over time, your opener will need to be maintained to ensure that it keeps operating the same way it did on the first day. Performing such maintenance is best left to the experts – that's us. We have years of experience and veritable treasure troves of knowledge that are required to perform this service effectively. We'll make sure the unit's motor gear and circuit board are in a good working condition and that its safety sensors are correctly aligned and able to detect an obstacle. If any of these components, or something else like the rail or the trolley, fail to meet our standards, we'll replace them with a part that does. Of course, if you were to suddenly experience some unexpected issues, our team will be more than ready to come to your aid and fix whatever part of your opener is acting up.
We Are Here For You
Whether you are looking for a new overhead door opener, or want to have a new unit installed, there's no one better to contact than our professional team. Give Garage Door Repair Kingwood a call today.
We also offer the following:
Garage Door Opener Track Maintenance
LiftMaster Garage Door Opener Repairs
Galvanized Torsion Spring Installation
Extension & Torsion Spring Replacement