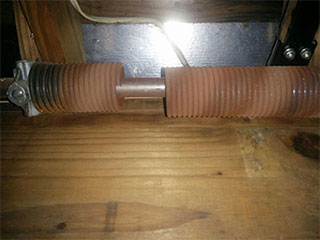 You're heading out to work, all set for the day, and suddenly realize that your garage door is not opening. Further investigation reveals that the torsion spring has snapped. Just what you needed, yay. Unfortunately, this type of problem can happen when you least expect it. This is not the type of issue you can handle yourself, as it requires special tools and a lot of skill to perform the necessary spring replacement. What you can do is just sit back and think what went wrong and how this can be prevented in the future. Here are a few reasons why torsion springs give away suddenly:
Using Incorrect Springs And Rust
Each garage door is designed to work with a specific type of components. If the installed spring does not match the specified size and weight of the door, then it is bound to snap prematurely. That's why you need to make sure that only a professional technician deals with these components and not some ambitious DIY-er. Rust is another major factor that can seriously weaken the metal coils and will force the spring to break. Rust can be prevented to a large extent by simply applying the spring with a lithium-based lubricant every so often.
The Stress Of Constant Use
Every spring is designed to last for a limited amount of time. The lifespan of the average torsion spring is roughly ten thousand cycles, with each cycle representing one full opening and closing of the door. An average family uses their garage door at the very least twice a day, which means within ten to thirteen years they'll probably need to get the spring replaced. Of course, these estimations take regular maintenance into consideration, as without this the spring won't be able to keep operating for as much time.
So What Can I Do?
Well, we told how trying to do the actual repair work is too dangerous for the average homeowner, but luckily for you, there are simple maintenance tasks that you can perform to keep your torsion springs in a good condition. Lubrication, as we also mentioned before, is greatly beneficial, as it reduces the level of friction and promotes smooth and efficient performance. Even going so far as to simply inspect the coils every so often can help you catch minor issues early on. If spring adjustment is in order, or if you need any other type of professional assistance, our team at Garage Door Repair Kingwood is here to help.